I spread Happy Birthday wishes a year in advance.  Anniversary wishes as well.
Yes, one afternoon every February or so I spend 5-6 hours wishing friends and family Happy Birthday, Happy Anniversary, Thinking of You and Happy St. Patrick's Day.
Growing up my mom had a shoe box full of greeting cards to choose from.  She bought multi-packs of kids birthday cards, adult birthday cards, Easter cards, thank you cards, and get well cards to have on hand every month as she wished our relatives well wishes.
I loved going through her box of cards to read all the cards and to pick the most brightly colored card for a birthday party.
And I continued the tradition of keeping a shoe box of cards on hand for every occasion for many years after I married and moved out.  A box of cards was certainly less expensive and less time-consuming than heading to Hallmark or Target when I would remember I needed a card.
I prided myself on sending hand-written, hand-mailed cards for every relatives birthday.  I loved to hear that I was the *only* person they got a card in the mail from.  It made me smile.
When the need for more and more "Belated" cards became apparent, I knew my system of a box of cards was coming unglued.
I tried a few different strategies.  I tried sending all of the birthday cards for a single month at the beginning of that month.  (Regardless if their birthday occurred on the 6th or the 26th).  While I knew getting a birthday card two weeks earlier was lame, I thought it was better than a belated birthday card.
I tried picking through my box of cards and writing cards out for the entire year.
But, then I ended up with a box of cards that were pre-written but that I rarely remembered to be sent on time so I ended up with a lot of wasted cards.
I tried paper clipping each month's cards onto the calendar but two things happened.  One, the calendar fell off the wall more times than I could count which resulted in me needing to match all the birthday's and months up, again.  And 2.  I was perpetually late for those birthdays that were in the beginning of the month as I only looked at the cards once I flipped to the next month.
Then I discovered Cardstore.  I love Cardstore.  I spend hundreds of dollars at Cardstore.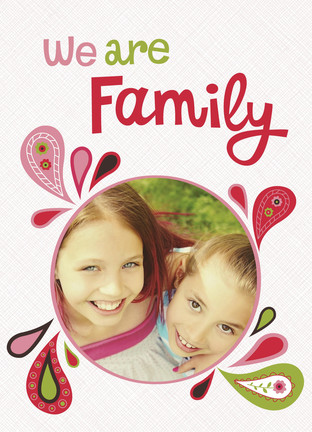 After ordering from Christmas cards from Cardstore for several years,  I stumbled upon the option to create and schedule cards a year in advance.
The remainder of that day was spent creating unique, personalized cards for my entire family.
My favorite card was a random St. Patrick's Day card with my daughter's face.  It was fun. It was for an oddball occasion.  I scheduled to be sent to a dozen relatives.
Personally, I enjoy creating birthday cards with the recipients photo.  I seek out the most *unique* cards for this express purpose for a few *special* relatives.  It makes me giggle.
Sending children's cards to adults is also a favorite of mine.  The princess cards just beg to be sent to my sister-in-law.
Yes, the family representative sometimes fail to return with great photos so choosing cards that don't require a photo is sometimes necessary.
My mother and my mother-in-law tend to get the pretty collage photos with photos of them with their grandchildren and children.
After scheduling cards for several years, I can share some tips to as you begin.
 Create an account at Cardstore.   This will allow you to save cards to complete later.  You know, in case you don't have an entire afternoon to finish.
Make use of the search filters that are offered.  Narrow your search by sentiment, photos, format, size, etc.
Don't worry about finding *the* perfect card!  There are SO many fantastic cards you can't go wrong with whichever one you choose.
Send the same card design to multiple people.  Shh!!….my brother in Florida sometimes gets the same card as my Brother-in-law in Michigan.
Upload your contacts addresses to  save you time at the checkout.
Choose the "Mail to Recipient" option to take advantage of having Cardstore send your card at a future date.  You pay the cost of postage but no additional handling fees!
You can use the "Mail to Recipient" option from outside the U.S. As long as the recipient is in the U.S.   I found Cardstore to be a time & money saver for me while I was living in Spain.  I created my Christmas cards and then choose the mail to recipients option to send the cards to my loved ones in the United States.  No overseas postage or concerns about my Christmas cards arriving at Valentines day.  Yippee!!
Photos can be uploaded directly from your computer or from Facebook, Instagram, dropbox, flickr, picasa, onedrive, box and evernote.  There are some basic photo tools (zoom & black and white) so if you would like more editing be sure you do so before you upload your pictures.  My personal favorite editing program is PicMonkey.
Start in January and work your way through the calendar.  I'm less likely to miss dates.  Don't forgot about recent events such as weddings & births!  No calendar, do a little Facebook research or pick up the phone to call mom.
You are billed for the cards when they ship.  So go ahead, stock up on well wishes knowing that you are not paying one large sum up front.  You will get an email when a card is getting ready to ship and be charged.
If  Great-Great Grandpa Smith isn't going to make to his birthday this year or your sister's no longer going to be married on her anniversary – you can adjust the cards you have scheduled.  You can also change the credit card on file it that doesn't make it the entire year either!
Add a personal signature!  Yes, you can have add an additional personal touch of your signature.  Scan and upload your signature or use their mobile app.
Get creative, have fun and enjoy!  I really do love Cardstore!